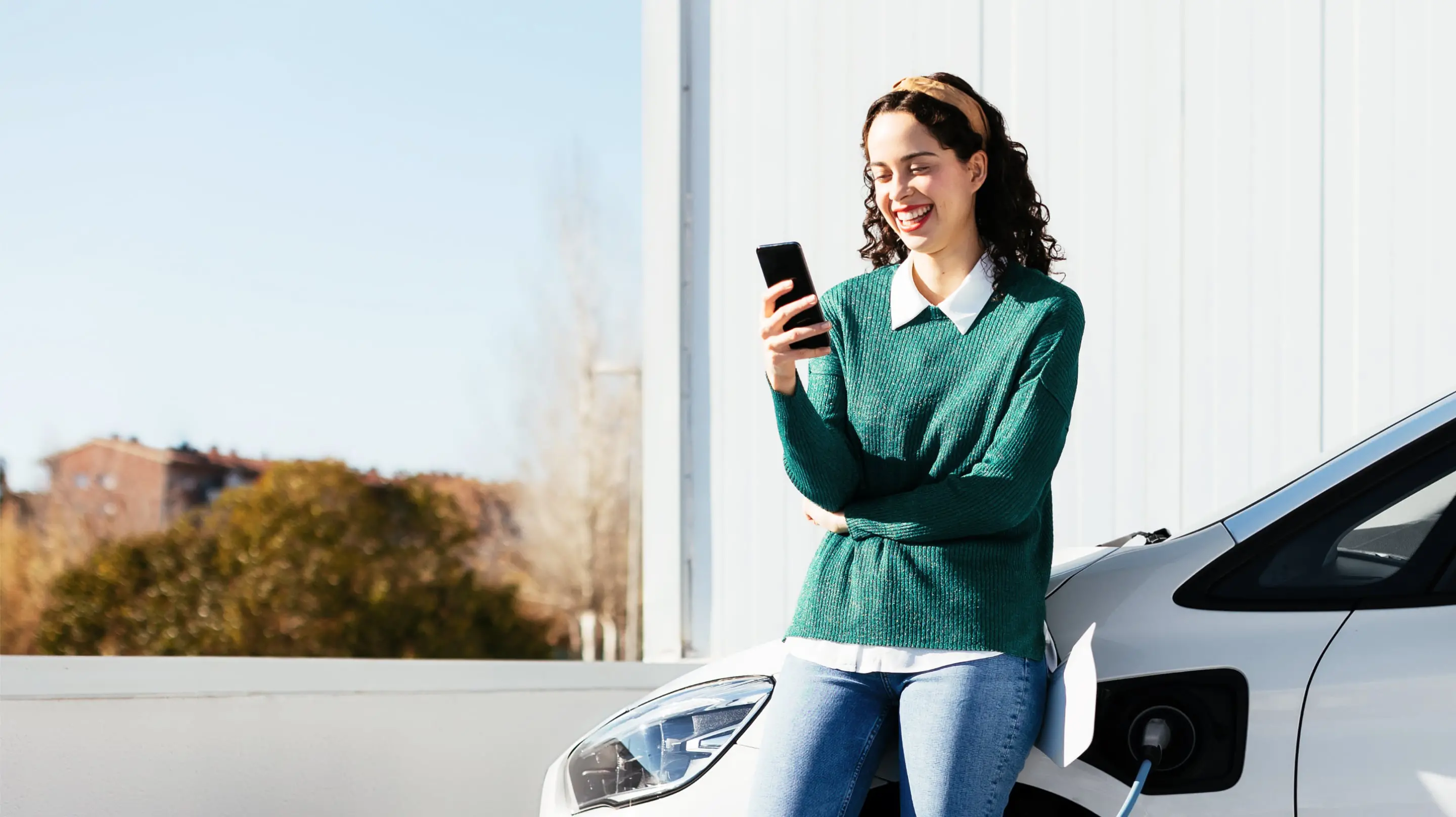 You could save with auto refinancing
Get a personalized rate in minutes.

Enjoy an easy online process.

Checking your rate won't affect your credit score.¹
Won't affect
your credit score¹
The simple way to refinance your auto loan
We make it easy to save. Check your rate, confirm your details and we'll take care of the rest when it comes to your new auto loan.
Flexible loan amounts
Upstart-powered car refinance loans start at $9,000² and loan terms range from 24 to 84 months.³
Custom rates
Our model looks beyond your credit score and use education and employment to get you the rate you deserve.⁴
No hidden fees
No application fee or prepayment penalty
Our online platform makes it easy to check your rate and apply
Check your personalized auto loan refinancing rate in minutes. You could save with a lower interest rate or better terms.
Won't affect
your credit score¹
We've helped more than 2.8 million customers⁵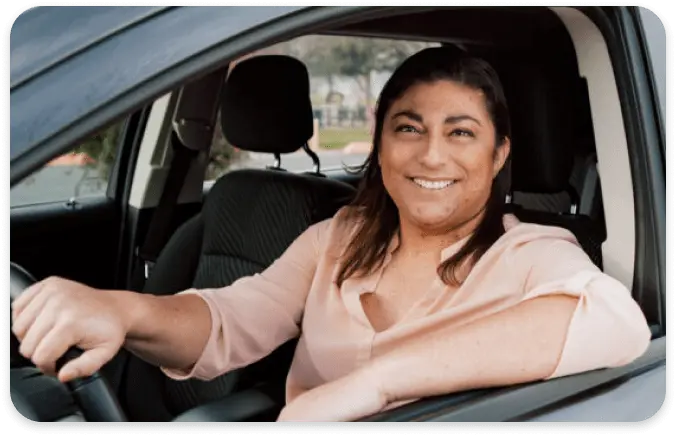 Jennifer saved over $129 a month⁶
"Not only did my interest rate go down, but my car payment also went down—I wasn't expecting to go down that much!"
Refinance your car loan online in 3 easy steps
Check your rate
Check your rate in minutes – without affecting your credit score.¹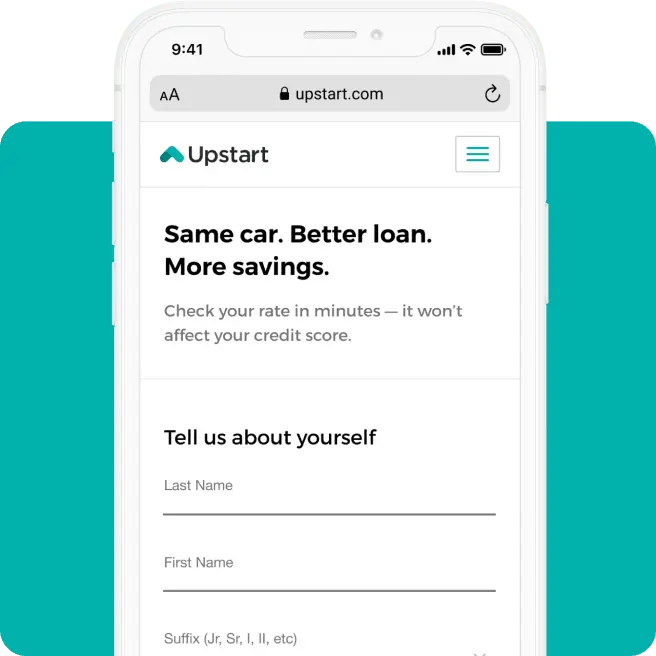 Confirm your details
Enter your personal, vehicle, and current car loan information.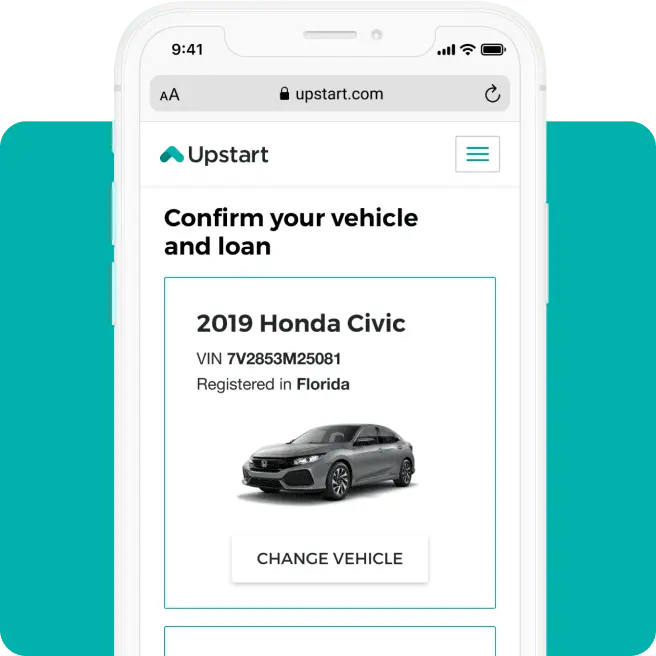 Get a new loan
We'll pay off your previous auto loan and update your title.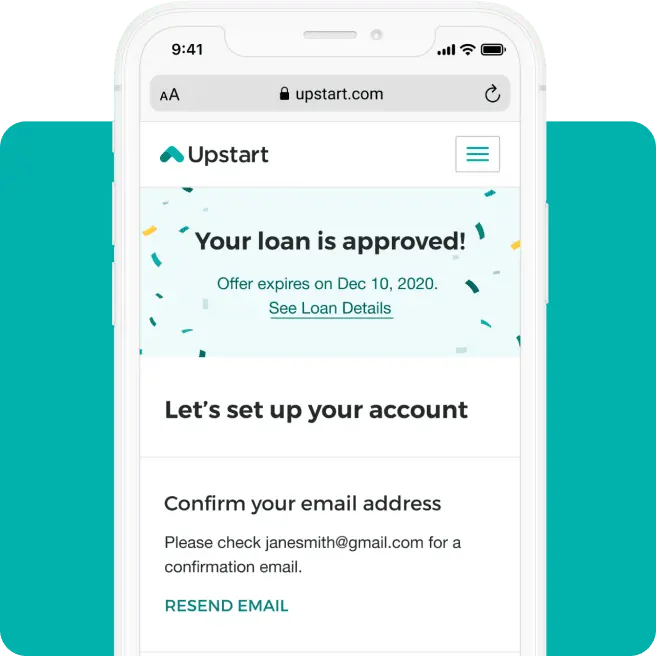 Won't affect
your credit score¹
Auto refinance FAQs
What is a car refinance loan?

A car refinance loan is a new car loan that replaces your current car loan under a different term and rate. Car loan refinancing can help you save money by lowering your

annual percentage rate (APR)

or reducing your monthly payments.

Why refinance your car loan?

An auto refinance loan may be right for you if you're looking for a different loan rate or term on your personal vehicle and if:

- Your vehicle is less than 10 years old
- Your vehicle has less than 140,000 miles
- Your current loan has a balance of $9,000 to $60,000
- You initiated your current loan at least 1 month ago

What documents will I need for auto refinancing?

When you refinance your car loan, you may be asked to provide documents that verify your identity, education, and income. We may also ask for:

- A copy of your vehicle registration card
- Proof of insurance
- A co-owner consent form (if applicable)
- Proof of open claim or second lien resolution

All document requests will appear in your Upstart dashboard.

How long will the auto refinance approval process take?

Start by filling out our online form. Provide details about yourself, accept your new terms, and verify your information.

We handle the rest such as verifying your registration details, checking insurance coverage, and ensuring your previous loan is successfully paid off. We may ask for documents to help verify your details and rate. This takes 1-2 weeks.

After 1-2 weeks, you are done! Our team will handle the title administration process with no action from you. Typically this process takes between 30-60 days.

Will refinancing my car loan affect my credit score?

When you check your rate, we make a

soft credit inquiry

that won't affect your credit score.

If you go ahead with your application after checking your rate and decide to accept a loan, you will be subject to a hard credit inquiry to verify the accuracy of your application. The hard inquiry may impact your credit score.

Does Upstart allow co-owners on a loan?

If you co-own your car, you can include your co-owner on your loan as long as they sign a consent form and provide identification details within 5 days of submitting your application.

Your co-owner will not be responsible for your new loan repayment. Further, we will consider only the information they provide in our credit decision.

Does Upstart allow co-borrowers on a loan?

Our platform doesn't currently allow co-borrowers on refinanced car loans. However, if you have a co-borrower on your current car loan, you may apply to refinance the loan in your name only to remove the co-borrower from the loan.

Can I refinance my car loan with a low credit score?

At Upstart, you're more than your credit score. Your auto loan rate should reflect that, too. That's where our "smarter rates" come in. Auto refinancing offers from Upstart-powered lenders consider important details beyond your credit score, like your education and employment.⁴ We think that's pretty smart. See if you qualify—checking your rate doesn't impact your credit score.
See what you could save
Won't affect
your credit score¹
More personalized loan options
1. When you check your rate, we check your credit report. This initial (soft) inquiry will not affect your credit score. If you accept your rate and proceed with your application, we do another (hard) credit inquiry that will impact your credit score. If you take out a loan, repayment information may be reported to the credit bureaus.
2. Your loan amount will be determined based on your credit, income, the outstanding balance of your current auto loan, and certain other information provided in your loan application. Not all applicants will qualify for the full amount.
3. The full range of available rates varies by state. A representative example of payment terms for an Auto Refinance Loan is as follows: a borrower receives a loan of $20,000 for a term of 60 months, with an interest rate of 18.77% and an origination fee of $1000, for an APR of 20.49%. In this example, the borrower will receive $19,000 and will make 60 monthly payments of $518. APR is calculated based on 5-year rates offered in September 2023. There is no downpayment and no prepayment penalty. Your APR will be determined based on your credit, income, and certain other information provided in your loan application. Not all applicants will be approved.
4. Although educational information is collected as part of Upstart's rate check process, neither Upstart nor its bank partners have a minimum educational attainment requirement in order to be eligible for a loan.
5. As of 9/30/2023, across the entire Upstart marketplace.
6. As of 9/30/2023, the average monthly payment savings amount is $89 based on all consumers who were approved for an auto loan through Upstart and accepted their final terms.
Car refinance loans not available in MD.
Upstart is not the lender for this product. All loans on Upstart's marketplace are made by regulated financial institutions.